Hurricane Pamela Builds Up
Forecasters warned of life-threatening storm surges, flash floods, and dangerous winds around the impact area.
Pamela builds up, likely to impact Texas by Wednesday Tuesday morning, Hurricane Pamela continued to strengthen as it moved along Mexico's Pacific coast and could become a category two storm before landfall Wednesday. It will likely bring heavy rain into Texas by midweek.
The National Oceanic and Atmospheric Administration (NOAA) encourages people residing in states along the Atlantic coast to download the FEMA mobile app and learn how to prepare for hurricanes by visiting Ready.gov and Listo.gov. There is a 60% chance of an above-normal hurricane season this year, according to NOAA.
LOOK: Strong winds and rain from #TyphoonKompasu lashed Hong Kong on Wednesday, suspending stock market trading, classes and government services https://t.co/Zm2cJWL69M pic.twitter.com/3CrWpiPoQ9

— Bloomberg Quicktake (@Quicktake) October 13, 2021
Hurricane Ida (Aug 26, 2021 – Sep 4, 2021) was a deadly category 4 hurricane that hit U.S. state of Louisiana and it also affected New York and New Jersey. Last year shall be remembered for its 6 major hurricanes out of 30 record-breaking hurricanes in a year. During the last five years, the frequency of hurricanes is "above-normal" including Hurricanes Harvey, Irma, and Laura that left more than $600 billion in damages and hundreds of deaths behind them the highest death toll remains 186 in the year of 2017.
According to predictions, this is another devastating year. The 2021 hurricane season is expected to be above-average, with the National Oceanic and Atmospheric Administration (NOAA) predicting 13 to 20 named storms, with 6 to 10 hurricanes, of which 3 to 5 will be major and highly destructive hurricanes.
Also Read:
The situation in which you are preparing yourself for evacuation with your family is a highly abnormal phase you can't control the weather but you have control over the decisions about how you can prepare yourself for the disaster.
This is a time of emergency but 5 disastrous mistakes can load an irreparable loss during and after this crucial time of Hurricane, let's talk about those mistakes.
1. Miscalculation of the Wind Speed
The wind speed and its estimation of damages are the expertise of the experts. During the hurricane majority of affectees develop a wrong understanding and receive big losses and damages.
The Saffir-Simpson Hurricane Wind Scale counts the hurricanes from 1 to 5 rating which is based on a hurricane's speed for how long its maximum sustained time is.
The second term which is frequently used in news also needed to be quoted is wind speed. For instance, a hurricane of Category 1 with a wind speed of 74 to 95 mph, while a category 5 hurricane has wind speeds of 157 mph or higher.
"A category 1 is considered dangerous," says Dan Kessler, CEO of harbor, an app, and website that give the service about predisaster planning. He further says Category 1 hurricanes are dangerous enough to damage your roof, pull-out vinyl siding, and gutters.
If your water supply is dependent on the electricity "So what are you going to do? You can't survive more than three days without water," says Kessler. He adds that you also can't flush your toilet without water, and that could become a massive hygiene and health problem. "We see it again and again and again in communities impacted by hurricanes."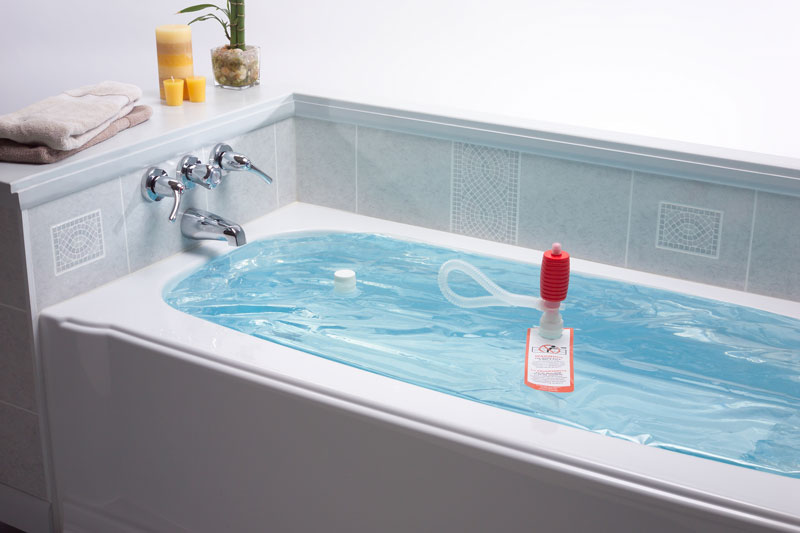 What you need to purchase is a waterBOB made of food-grade plastic in which can store up to 100 gallons of clean drinking water for three days in your bathtub.
2. Delay in Evacuation
The most horrible and deadly force of a hurricane is the flood. So never underestimate it. Contaminated drinking water, limited access to food, and tired rescue resources are just some of the problems you might face but traveling out during a hurricane could be a straight cause of death.
So the best idea is to evacuate as soon as possible, says Kessler "You don't know what's going to happen. Just because it's a Category 1, 2, or 3 doesn't mean it won't cause significant damage."
For example, Harvey was a hurricane of Category 4 that decreased to a tropical storm. But heavy rains of 4 days brought 50 inches of water and resulted in urban flooding in different parts of Houston, and added more than 100 deaths in 2017.
A very late evacuation means more trouble. You can be stuck in a traffic jam with thousands of others like you. Long queues at gas stations and lack of available room at hotels.
"And if you don't have a place to stay, guess what? You are going to be driving for hours and hours and hours, and you'll be stuck with the same problem of not having enough gas," warns Kessler.
3. Leaving the Doors Open.
Once you are leaving from home never remain the entry door or any window open for wind pressure it could cause big damage says the experts. In this situation, wind pressure builds up like blowing up a balloon, which could cause great damage as Internal pressure, combined with external wind force, can burst out the roof off.
Also, make sure exterior doors, windows, garage doors are closed, if you have enough time then add storm shutters, reinforced garage doors, roof clips, and hurricane anchors for the safety of your property.
4.Delay in documentation for Insurance Claim
The second irritating and painful phase starts after the hurricane when someone applies for an insurance claim. But your smartness and early planning will make it easy, quick, and responsive.
One has to prepare the file a bit earlier the ideal time is when you come to know the very first time about the hurricane by media.
Home inventory At your return after the hurrican you need you will be need to prove the damges the hurrican made for an insurance claim. A copy of a home inventory it could be a written list or an inventory stored on a computer hard drive in both cases keep the file with yourself or store the scanned version of each document in cloud storage.
Save all receipts. In case of evacuation you might have to pay to hotel for living and restaurant for food. You need to save all receipts of bills. You may have to pay some upfront costs during and after a disaster, so keep your receipts becuse lots of insurance companies cover these facilities into home insurance extra riders. once you will have proof you can claim it.
Keep pictorial Record. You need to make pictures, before you leave and save them as well in cloud storage. On your safe return take some more photos of damaged places and corners and keep everything as it is until your insurance adjuster has seen all the damage.
According to Kelly Rush, director of home insurance at LexisNexis Risk Solutions, (a data analytics company) that one of the biggest mistakes by the majority of people usually make is that they typically exclude and wind damage at the time of insurance deal which cost them hundreds of time more when they face only one hurricane and flood.
5.Hiring a Shady Contractor
It is sad to say that after the hurricanes, fake contractors look to make cash out of the misery of people by leaking roof repair scams. However, it is common for these fraudsters to go door to door offering homeowners very low bids.
They often demand all the cash before even starting the work and they often leave homeowners with unfinished repairs. In some cases, after taking the money the contactors never even show up to start the work.
It is recommended by experts to get referrals from trustworthy family members and friends and you should also do your research with the Better Business Bureau. However, the most important thing is to assure that the contractor is licensed and insured.
Note: This is an update to a post originally published in August. 20, 2021.